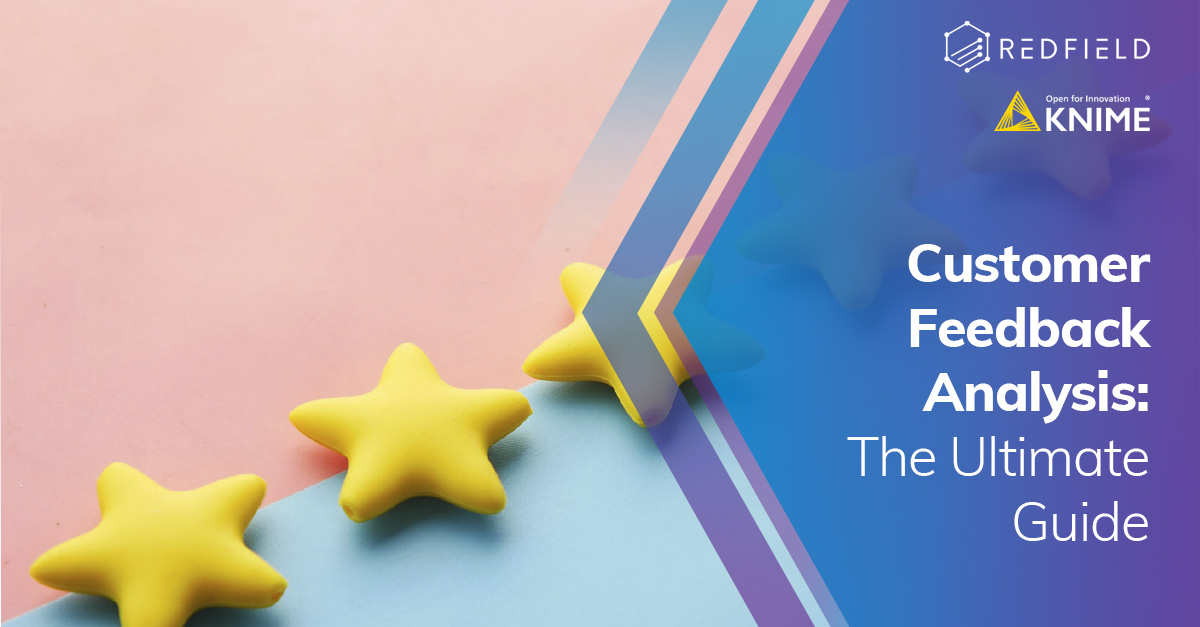 The goals and objectives of any business frequently fall into several categories: financial gain, growth, and employee development, and the steps in the process of achieving them can be designed to meet one or more. Nonetheless, the ultimate goal, first and foremost, depends on customer satisfaction. Accordingly, feedback analysis comes into play and provides actionable insights for business decisions.
Running a business without clear customer insights is like driving a car to a new destination without GPS. Indeed, you'll be moving forward, but it might not be in the right direction, and you will probably arrive late. You can make guesses and might occasionally get lucky, but the odds aren't in favor of your business growth.
Designing attractive products and services and establishing a great business sounds easy from the owner's perspective. Still, other points of view determine the company's success. Instead, customer satisfaction is the primary dictator of the company's future. That is why companies must collect customer feedback and conduct the vital part of making progress: analyze customer feedback.
Interpreted in percentages, more than 60 percent of customers will defect after one bad experience, according to the 2022 Zendesk Customer Experience Trends report. Losing potential customers is something that many companies would struggle to bounce back from. Therefore, rather than making a costly mistake and turning a blind eye to your customer feedback analysis, company owners and managers need to put the feedback analysis on point.
What Is Customer Feedback?
Customer feedback is the information customers provide about their experience with a specific business. They rate the products and services, and their opinion can take several different forms: customer reviews, social media comments, star ratings, in-app ratings, chat interactions, e-mail messages, discussion over a phone call, or face-to-face conversations between customers and employees.
The purpose of customer feedback is to reveal their level of satisfaction and thus provide valuable insights for customer success and marketing teams to understand what precisely is wrong and where there is room for improvement. Customer comments, complaints, or compliments regarding products and services can help businesses to explore solutions.
Sometimes manual analysis of customer feedback data will disclose which areas need improvement. However, at times, raw data requires keyword or aspect analysis with feedback analysis tools and other data processing techniques. This helps managers understand all aspects of customer feedback, interpret the feedback collected remarks, and transform the information into action.
Why Is Customer Feedback Important?
User experience has a crucial impact on a company's success because it directly impacts customer feedback. Without analyzing feedback, a business will never know if its products and services are valuable and useful for its customers. Without knowing if customers are getting value, the management teams won't know if they have loyal customers, and what are businesses without loyal customers?
There are numerous benefits of customer feedback analysis, and some of the common reasons why companies need to collect customer feedback are:
Alert System
Customer feedback through feedback analysis offers insights into failings and inefficiencies in the systems within the business. The feedback will alert the managers, and when they are engaged in analyzing it and set up to act on it quickly, it can save a lot of time and effort. Instead of trying to fix unrepairable damage, feedback analysis can help businesses solve widespread issues before they arise. Moreover, customer feedback can be analyzed on a large scale across the entire company, highlighting departments doing better or worse than others.
Relationship Builder
Inviting, collecting, and responding to customer feedback builds strong customer and business relationships. Customer satisfaction is based on customers' happiness with a company's products, services, and capabilities. When a company is visibly engaged with customer feedback on public channels, and when that feedback is implemented, customers feel valued, connected, and listened to. In the long run, this boosts the brand and the brand's reputation.
Market Research Tool
Feedback helps businesses understand their customers better and explore their wants and needs. Moreover, it's about something other than what they don't like, but rather it is about who the customers are, what drives them, and what they value most. Besides, direct suggestions from individual customers can initiate a trend that emerges essentially from the data at scale. Customer feedback can be the beginning of a venture because new ideas and directions inspire product and service development.
Types of Customer Feedback
In the process of collecting customer feedback, there are several types, and explicit customer feedback is the most common one. This is when a brand explicitly asks the customer to provide answers to a query with the aim of generating a score. However, it is not uncommon the explicit feedback to be unprecise and untrue, which is why implicit feedback is equally important. That is because it offers insights into how customers feel, think, and their actual actions.
Using all methods of collecting customer feedback is vital to get the complete picture, and very often, there is a crossover between the above types. The customer feedback that businesses can collect includes:
· Structured Feedback
Various customer metrics are used to monitor customer feedback, and the gathered data is structured and solicited (customers are asked to obtain feedback). The Net Promoter Score (NPS), Customer satisfaction (CSAT), and Customer effort score (CES) provide an opportunity for high-level analysis. Additionally, there are unsolicited operational data (customers are not asked for feedback) and contains information for customer interaction with the brand.
· Unstructured Feedback
Many brands have an open text response on a survey, ask for reactions on social media, or conduct interviews with their customers, and in this way, brands get unstructured and solicited customer feedback. The hardest to collect but most indicative is the unstructured and unsolicited feedback. This is the type of feedback collected through calls, social media mentions, or third-party site reviews.
Difference Between Insightful and Non-insightful Data
When it comes to customer feedback, there are snags or difficulties in the process of acquiring information from the feedback analysis. Not all of the collected feedback is useful to the organization. In fact, there are types of data: insightful and non-insightful.
Non-insightful data is information regarding an issue that the brand is already familiar with, whilst insightful data is information that refutes the brand's knowledge, confirms suspicions, or quantifies its importance.
There are three types of actionable insights that brands can get from customer feedback analysis:
· Insights that lead to critical thinking and action
· Insights that show validation and don't require action
· Insights that help you rethink the brand's strategy
For example, if the feedback analysis indicates that 80% of the customers are not satisfied with the app functionality, the brand gets insightful data and can take action to solve the issue and provide a great customer experience.
What Is Customer Feedback Analysis?
Feedback analysis is a process of identifying the needs and frustrations of customers with the ultimate goal of improving customer satisfaction and reducing customer churn. It is the driving force of any business because it represents how customers experience the products and services provided. Analyzing customer feedback makes the refurbishing from lousy customer experience and alarming churn rates to outstanding customer experience, customer satisfaction, and customer retention.
Periodically, companies analyze customer feedback automatically, which enables large businesses to sort vast amounts of data collected from various channels in a timely manner and fairly accurately. Still, let's not forget that feedback analysis is the method of breaking customer feedback down into something easy to understand and implement.
Customer feedback analysis happens on a micro and macro scale. The two stages are equally important, and the first includes analysis of the individual pieces of customer feedback, determining their category, and tagging the feedback. The second stage consists of analyzing the goldmine of grouped data to discover insights about the brand's strengths and weaknesses.
Why Is It Important?
Successful businesses making long-term profits and generating sustainable growth are most likely also paying attention to the most critical element: their customers. Companies such as Amazon, Apple, and Google have billions of dollars in net revenue annually and are often called 'the most customer-centric companies in the world.' Indeed, there is a good reason for that.
The purpose of listening to customer feedback goes beyond identifying which trends to follow. Feedback analysis plays a critical role in customer retention and loyalty. The business world holds attributes to their success, how well brands listen to customers, provide products and services they want, and the customer experience they expect. Lasting success depends on the friction points when customers interact with a particular brand.
Why do brands need to improve continuously? Because today, more than ever, customers easily switch to a new brand that provides excellent customer experience, better customer satisfaction, and outstanding customer journey. Customers have to be happy, and they are well aware of that fact, which is why brands need to approach feedback analysis if they're going to become the next leader in their genre.
What Are the Benefits of Customer Feedback Analysis?
Companies are collecting mountains of customer data, both qualitative data and quantitative data thanks to data warehousing. Still, the critical and delicate part is to analyze the feedback and get insightful information. Modern businesses must harvest and interpret all kinds of data their customers provide, and a successful feedback framework brings many benefits. Feedback analysis is an extraordinarily effective way to analyze the brand and implement meaningful change.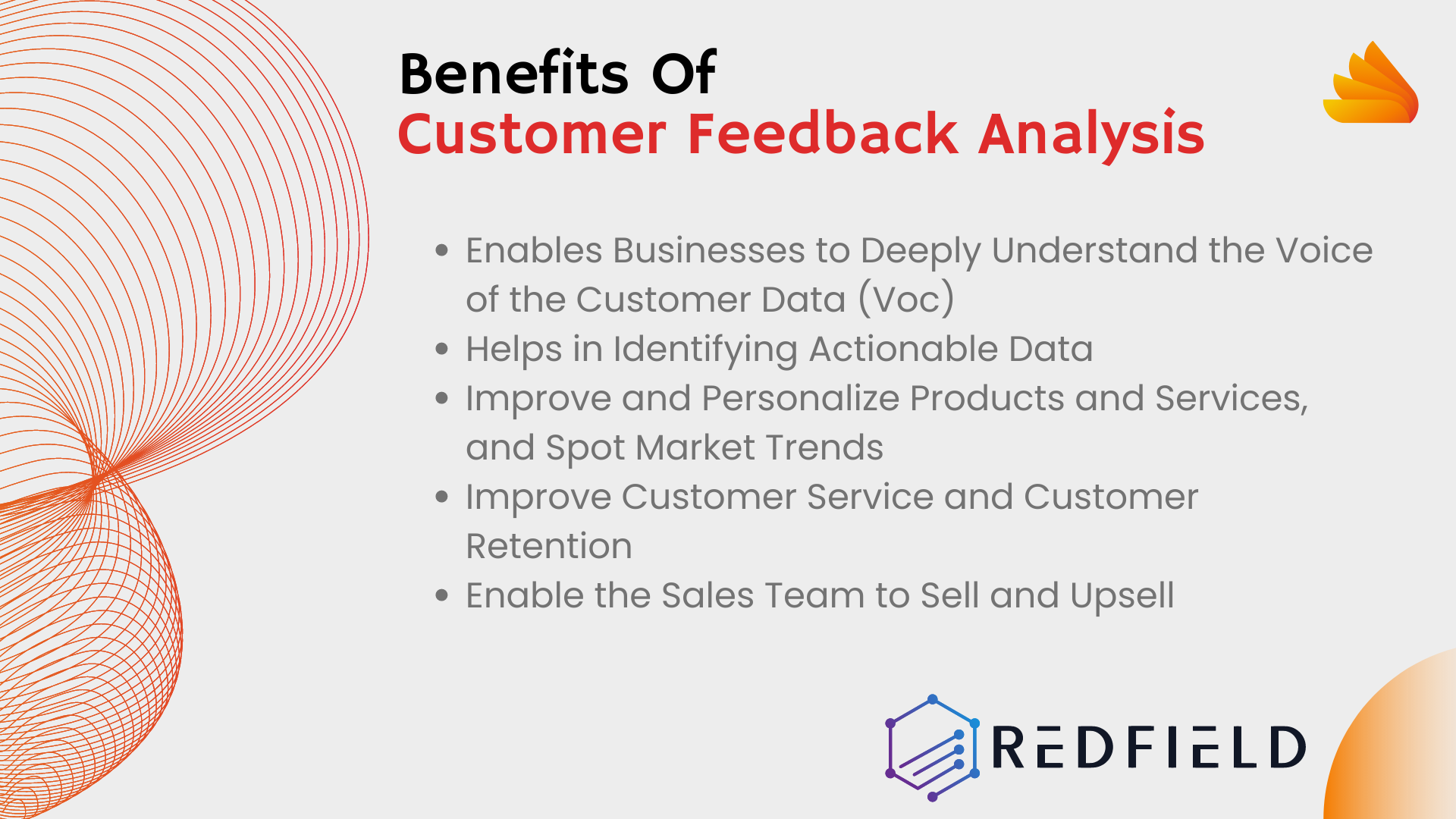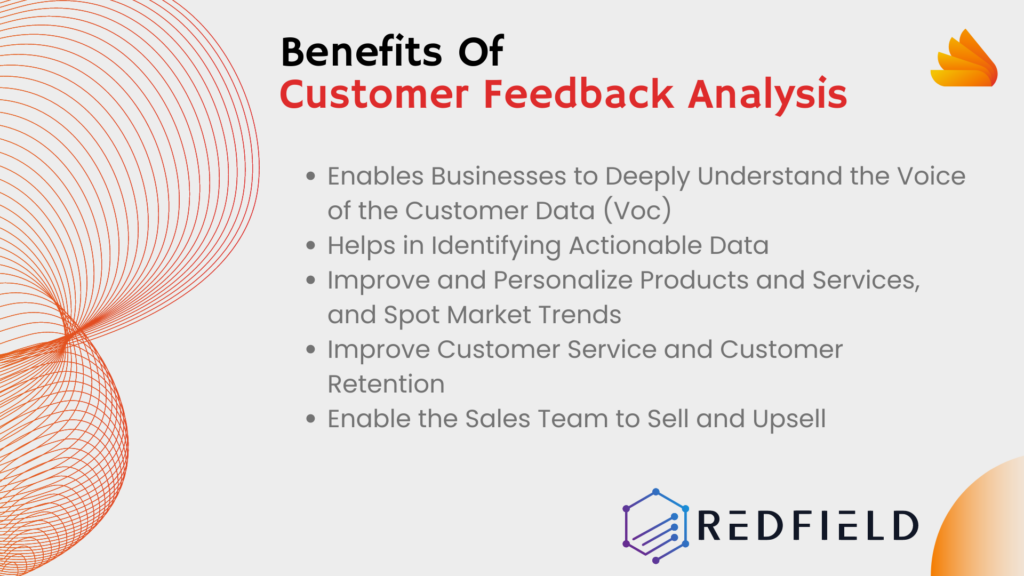 The key benefits of customer feedback analysis include the following:
Feedback Enables Businesses to Deeply Understand the Voice of the Customer Data (Voc)
Conducting feedback analysis helps brands to deeply and thoroughly understand their customers. Rather than surface-level impressions, the feedback analysis tool provides an extensive understanding of what is most meaningful to the customers.
For example, managers can discover why the NPS score is low or why the products or services don't satisfice customers. Analyzing customer feedback also provides information on whether the products and services meet the requirements and expectations.
The sentiment analysis enables brands to better understand customer sentiment about various aspects. Also, they can identify customers at risk of churn and proactively reach out to them because customers love brands that actively want to know their opinion.
Feedback Helps in Identifying Actionable Data
The more data is collected – the better. However, customer feedback is irrelevant if it is not adequately analyzed, and the brands cannot determine what action to take. The feedback data needs to be actionable, meaning the results are presented in a proper context and accurately so that they can be easily leveraged to drive business decisions.
For example, if the CSAT score has been dropping consistently over the past calendar quarter, the managers will be unable to determine the reason and fix it by looking at the high-level scores. Feedback analysis empowers managers to efficiently analyze open-ended feedback and look into the trends in products or services that are a common topic of discussion amongst customers.
Improve and Personalize Products and Services, and Spot Market Trends
Knowing where to grow and expand is a million-dollar question among business owners. Regardless of the industry or the location where the business operates, the products and services must fulfill specific needs in the marketplace. There are unquestioned factors and criteria within each industry where particular features must be considered.
Business success is about equalized supply and demand, and feedback from customers will tell the brand all information needed. Additionally, CRM data enrichment through feedback analysis is a way to improve product and service quality. For example, brands can discover bugs that require immediate fixing, features and functionalities that need improvement, and even missing product or service suite features.
In addition, businesses are under pressure to offer customers a curated experience and personalized products. Companies can enrich the CRM data and create comprehensive and updated customer profiles based on past interactions and feedback. Customers look for personalized experiences that are in-trend and brands that offer that differentiate them in the highly competitive market.
Improve Customer Service and Customer Retention
Modern customers have plenty of choices, and with just a few clicks on a Google search, they will reveal competitor products and services, as well as countless other businesses that offer similar products and services in the area, the country, or online with free shipping. With few exceptions, brands need to compete like never before.
Customer service matters and is as important as the price and the products and services offered. With customer feedback analysis, managers can scan the customer's tone and equip support agents to adopt suitable strategies to increase customer satisfaction and lower customer churn. For example, poor customer service is estimated to cost businesses more than $75 billion a year. Listening to customers can help the brand provide outstanding customer service.
Furthermore, service-based businesses gain the bulk of their income from long-term contracts and regular clients, while one-time jobs will most likely leave the brand struggling to survive among the competition. Getting feedback enables brands to determine satisfaction rates and improve customer retention.
Enable Sales Team to Sell and Upsell
Sentiment analysis is a fundamental part of customer feedback analysis that opens up opportunities for the sales team. Based on the insights from the feedback, managers can optimize sales strategies and identify the right time to sell a product or service.
The customer's revenue potential doesn't end at the point of sale, and feedback analysis can reveal a wealth of opportunity for more business after the initial purchase. There are practices such as cross-selling (offering products and services that are compatible (complementary) with the ones customers are purchasing) and upselling (encouraging customers to purchase a comparable higher-end product or service than the one in question) that are great for businesses.
Usually, upselling involves marketing more profitable products and services, but customer service feedback can help brands tap into it. Sometimes it might be as simple as exposing the customer options that were perhaps not considered.
Now, after the most crucial terminology related to feedback analysis is explained, the next step is to explain how to collect and categorize customer feedback.
How to Get Actionable Insights From Your Customer Feedback
The primary objective of customer feedback analysis is to obtain usable and granular-level insights from a largely unstructured data set with the help of document classification, which will later be used to enhance the brand's operations, sales, and revenue.
It is more than evident that for feedback analysis, the company needs quality customer feedback and a strategy to sort the feedback and find a method to get cohesive insights so that everyone in the organization can understand and benefit from the obtained insights. Here is a short overview of how to collect customer feedback:
Collect Customer Feedback
The first step in the feedback analysis is collecting customer feedback from the super wide world of data. Businesses must proactively search for customer feedback because waiting for the next e-mail won't provide valuable insights. Actionable insights lead to improvements, and many sources provide valuable customer feedback:
Net Promoter Score (NPS)
NPS surveys are some of the best methods for discovering how customers perceive the products and services that specific brand offers. The NPS feedback is consisted of one simple question, for example, 'How likely are you to recommend Redfield Data Science Solutions and AI?' followed by a 0-10 scale. The NPS responses are categorized according to scores, and the respondents are grouped as Promoters (scores 9-10), Passives (scores 7-8), or Detractors (scores 0-6). The NPS is calculated by subtracting the percentage of Detractors from the portion of Promoters.
Brands that run NPS surveys efficiently measure loyalty and understand what percentage of their customers will likely recommend the brand's products and services. Moreover, NPS surveys deliver scores and open-ended responses (text data), and the second group is crucial for analyzing the granularity – why customers are satisfied or unsatisfied.
The NPS score gives a general and quick overview of how the company is performing, but the NPS feedback also offers actionable insights. The first step is to export/download NPS responses as a CSV or Excel file and obtain all benefits from the NPS feedback.
Customer Surveys
Customer onboarding surveys are a great way to conduct market research, competitive analysis, and get customer feedback. Additionally, this type of survey enables the brand to access the onboarding process effectively.
The best part about these surveys is that they can be customized according to the target audience, and the brand can send the surveys via e-mail, Facebook, or by embedding a link on the web. Another option is to use tools to make the process straightforward and effortless.
For example, asking the customers to rate the onboarding experience can provide valuable insight into whether they are satisfied with it or cannot get all benefits from the product/service and use all features offered.
Social Media
Many times, customer feedback on social media offers the most truthful and sincere assessment. Social listening and monitoring of social media mentions provide brands with real-time insights about the brand, and Facebook, Instagram, and Twitter are authentic treasures of high-quality customer feedback. Organizations can take instantaneous action on the more urgent issue simply by analyzing the feedback on social media.
Social media listening enables brands to keep up with customer frustrations and immediately reply to urgent issues. Brands can also have meaningful conversations with their customers on social media platforms, discover the root of specific problems, and ultimately deal with the matters briskly and effectively. Monitoring the negative reviews can help businesses avoid PR crises.
Public Reviews
Would you ever book a hotel, purchase a smartphone, or visit a local grocery shop without checking out the reviews first? If yes, you are part of the 76% of consumers who "regularly" read online reviews when browsing for local businesses.
It would be no surprise to search for your brand's name and find online reviews on Google online reviews, Amazon, Facebook, Yelp, or TripAdvisor, to name a few. What are your customers saying about your products and services on those popular product review sites?
Reviews are everywhere, and public platforms are a great source of feedback because customers honestly present their opinion about what is great about your business and what areas need improvement.
CSAT Surveys
A customer satisfaction survey (CSAT) is a questionnaire used by brands to evaluate how satisfied customers are with the products and services offered, as well as the customer support experience. Different stages of the customer journey represent and measure customer satisfaction.
The crucial part is to find the areas of improvement, analyze customer problems and implement suggestions that will increase customer satisfaction and engagement. Moreover, inviting customers for user interviews is another effective way to emphasize their importance to the brand.
Categorize Customer Feedback
Earlier, we discussed insightful data on one side and non-insightful data on the other. While some customer feedback is percipient, there is the feedback that is quite useless. At this point, it is vital to mention categorization. By grouping the customer feedback, brands get predefined categories, and once in a while, they will come across an odd piece of feedback that doesn't fit into the grading system. The reason for that probably is that the feedback is not very insightful.
What's more, categorization of the feedback can highlight the less noticeable features that, be that as it may, can play a considerable role in the overall process of improving brand performance at all levels. For example, in 2005, Yahoo was one of the leading players in the online advertising market but neglected consumer trends and needed to improve the user experience. The failure to develop a model to monetize content "views," similar to Google, and the undervaluation of the importance of Search cost this company a fortune.
Strategic planning and establishment of an administered structure for categorizing feedback will provide valuable insights and will help the company to detect trends over time. Aspect analysis and competitor comparison might help your business customer service teams define the tone of voice: friendly and conversational or more professional.
Categorization also is beneficial in improving the workflow. Feedback analysis will help managers and employees better understand how to tag pieces of customer feedback. Team members that are skilled and know how to match the customer feedback with the exact tag are more productive and accurate.
Several important aspects need to be defined so that the categorizing of the feedback is effective and error-free:
· Define the objective/problem
· Decide which team(s) will benefit from the information
· Determine the best way to get relevant feedback for the problem (public reviews or a tailored survey)
Challenges to Customer Feedback Analysis
Customer feedback analysis has its challenges. Getting the business to a place where the data collected is purposeful and applicable can take a real effort. The five most significant challenges to getting most of the qualitative data and feedback data are:
1. Using Inconsistent Feedback Analysis Tools
Generally, customer feedback data comes from a few different sources. The issue arises when teams at the company use different tools during the processes. In order to make the process simple and efficient, the product team, support team, and mobile app team, for example, need to use unified approaches. Siloed data is incomplete data, and if the data is partial and imperfect, the feedback analysis will become an uphill battle.
There are two solutions: get stakeholders to adopt the same tools and processes or utilize a feedback analysis tool to bring all parts of the puzzle together. The second option is more uncomplicated, and most businesses opt for it. The key is having a central location with complete access to all business areas.
2. Feedback Analytics With Complex Languages
Language is complex; different people can convey one idea differently. For example, five or ten customers might have the same issue with a product, but they all explain it differently. And if you add multiple languages on top of that, feedback analysis can become chaotic.
That is why it is essential to identify common words or phrases that employees notice throughout the data in feedback analysis. You can get a category and summarize similar responses by searching for specific keywords. You can perform this manually or with automated tools.
3. Quality Issues With Customer Feedback Analysis
Sometimes customers leave specific feedback that is easy to analyze, but not too often; the input is indistinct, unclear, and not very helpful.
One of the most effective ways to solve this is to create the customer survey design carefully. If some questions lack usable feedback, it would be wise to tweak or replace them with more straightforward questions that will deliver relevant input.
It is unthinkable to eliminate vague feedback completely, but you can clean up the feedback you cannot use and improve the overall data quality.
4. Slow-To-Action Feedback Analysis Recommendations
Prioritizing and inclining to certain aspects is a major challenge in collecting and analyzing feedback data. Analysis paralysis often happens, especially if the company needs to handle large amounts of data.
In such situations, a parallel operation is the best solution. First, the brand needs to identify a common trend, start with simple actions that can be solved quickly, and then proceed with the things that require more effort.
5. Negative Customer Feedback Analytics
Analyzing negative reviews is painful, but knowing what customers don't like about your brand can be eye-opening and win-win. Negative feedback is the golden ticket to deep customer insights.
Building products and services is tricky, so negative feedback will help you understand what you need to improve. Analyze and implement the results of the feedback analysis.
Feedback Analytics Strategies and Methods
There are several feedback analysis methods that brands can use to determine their actions. Each brings different pros and cons:
Manual Feedback Analysis
Open-ended feedback is the most valuable type of data. Traditional methods of analyzing feedback consist of tagging, categorizing, and coding – solutions that make open-ended feedback more comprehensible. For example, when the support team categorizes tickets based on the type of issue, the future analysis of that product or service will be more accessible.
Pros
Adding a code to categorize customer data solves the chaos that can occur with open-ended feedback. Tags such as 'slow mobile app' can make the qualitative data usable for traditional quantitative methods.
Cons
It's pretty evident that tagging, categorizing, and coding are manual processes that are time-consuming and high-priced. Maintenance and updating the languages is an additional concern. Additionally, disagreements between employees about which codes or tags to use are another issue.
Sentiment Feedback Analysis
Sentiment analysis comes into play because of customer sentiment: humans love to express their emotions in their writing. Sentiment analysis uses Natural Language Processing (NLP) to detect the sentiment within text automatically.
Pros
Brands use customer sentiment to measure their feelings about their products and services and track changes over time. It is handy for the analysis of high-quality structured data from social media.
The key is discovering whether the sentiment analysis is appropriate for your data and when to use it to benefit from the positives in this approach. The sentiment amazingly harmonizes with NPS and CSAT because it gives perspective on why customers feel the way they do.
Cons
It is easy to misunderstand sentiment analysis (for example, double negatives), so you must be extra careful when analyzing the data and double-check all details.
Customer Feedback Analysis Through Keywords
Keyword or aspect analysis is extracting keywords or phrases from feedback and determining obtainable insights.
Pros
After determining the specific keywords, it is easy to analyze the feedback and discover what customers are talking about most. By grouping keywords, you can identify tags or categories and pay closer attention to finding actionable insights on social media.
Cons
Keywords can only provide part of the picture. Brands often introduce bias into the keyword analysis because they focus on price as the key factor in customer decisions, while the truth might be completely different.
Keyword analysis requires some manual work, and sometimes team members might overlook the phrases that make the feedback accurate and correct. Additionally, there might be disagreement about which keywords matter.
Topic Feedback Analysis
A topic analysis is a traditional method of creating a set of topics and employing machines to search for those topics in the feedback data.
Pros
Topic analysis effectively fixes the challenges of manual analysis: human bias, time to results, and codebook maintenance. Also, it allows the generation of insights from underused unstructured data.
Cons
It is a manual process, meaning it is not very scalable. Team members must manually update the procedures whenever a new topic is discovered and requires analysis. Due to the manual work, it is impossible to catch everything.
To Sum Up
Customer feedback analysis is a complex operation, although it may seem a straightforward and plain-sailing task. Working with the goldmine of customer feedback data can uncover insights for your business and, ultimately, improve your brand at all levels: sales, revenue, and reputation.
Feedback analysis is the key to customer success and sustainable business growth. Everyone in the business sector, including start-ups without a technical team and established companies with teams of experts, can leverage the power of analysis and stay ahead of the game.
There is no reason why you should not start gathering feedback, analyze it and take specific action steps to improve the products and services your brand offers.
FAQs
What Is Customer Feedback?
Customer feedback is the information customers provide about their experience with a specific business. They rate the products and services, and their opinion can take several different forms: customer reviews, social media comments, star ratings, in-app ratings, chat interactions, e-mail messages, discussion over a phone call, or face-to-face conversations between customers and employees.
Why Is Customer Feedback Important?
A company's success is based on user experience, and some of the reasons why companies need to collect customer feedback are:
Feedback is an alert system that offers insights into failings and inefficiencies;
Feedback is a relationship builder, and through inviting, collecting, and responding to customer feedback, brands build strong customer and businesses relationships;
Feedback is a valuable market research tool for understanding customers better and exploring their wants and needs.
What Is Customer Feedback Analysis?
Feedback analysis is a process of identifying the needs and frustrations of customers with the ultimate goal of improving customer satisfaction and reducing customer churn. By analyzing customer feedback, brands can switch from lousy customer experience and alarming churn rates to outstanding customer experience, customer satisfaction, and customer retention.
Why Is Customer Feedback Analysis Important?
Successful businesses making long-term profits and generating sustainable growth are most likely also paying attention to the most critical element: their customers. Feedback analysis plays a critical role in customer retention and loyalty. The business world holds attributes to their success, how well brands listen to customers, provide products and services they want, and the customer experience they expect. Lasting success depends on the friction points when customers interact with a particular brand.
What Are the Benefits of Customer Feedback Analysis?
The key benefits of customer feedback analysis include the following:
Feedback Enables Businesses to Deeply Understand the Voice of the Customer Data (Voc)
Feedback Helps in Identifying Actionable Data
Improve and Personalize Products and Services, and Spot Market Trends
Improve Customer Service and Customer Retention
Enable Sales Team to Sell and Upsell
What Are The Challenges to Customer Feedback Analysis
The five most significant challenges to getting most of the qualitative data and feedback data are:
Using Inconsistent Feedback Analysis Tools
Feedback Review Analytics With Complex Languages
Quality Issues With Customer Feedback Analysis
Slow-To-Action Feedback Analysis Recommendations
Negative Customer Feedback Analytics
Feedback Analytics Strategies and Methods
There are several feedback analysis methods that brands can use to determine their actions. Each brings different pros and cons:
Manual Feedback Analysis
Sentiment Feedback Analysis
Customer Feedback Analysis Through Keywords
Topic Feedback Analysis