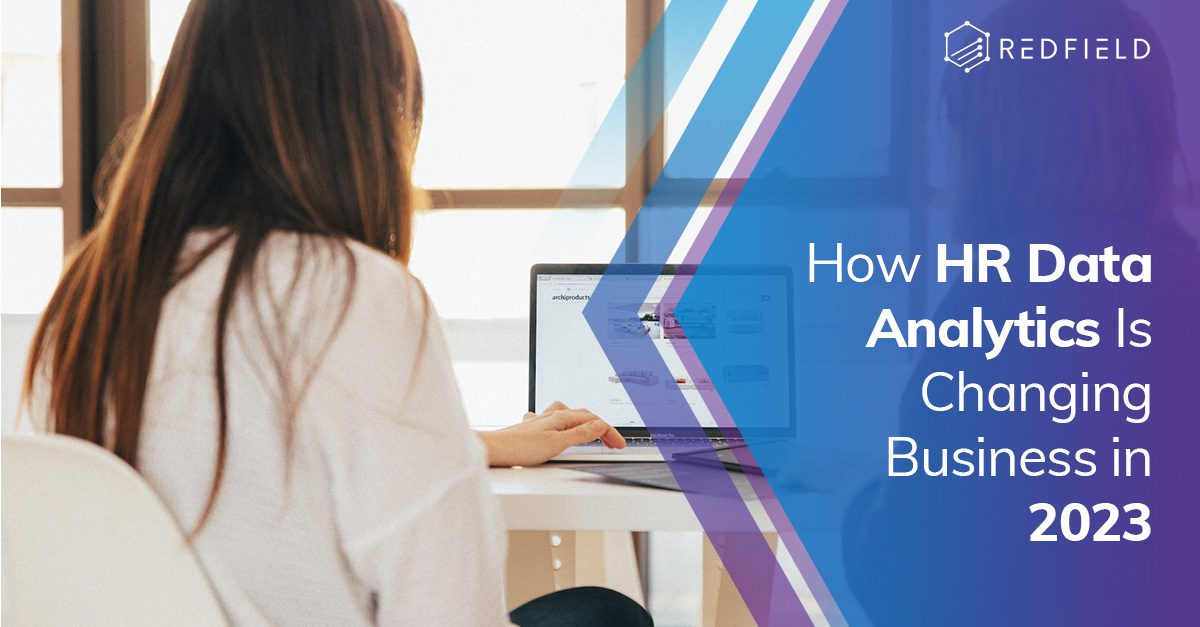 In recent years, companies started establishing and implementing changes based on HR data analytics. The human resource department is the most human-centric part of each organization, and HR professionals are constantly working on measuring its success and quantifying its importance. With innovative changes, like the widespread adoption of analytics, now is a rousing time to be part of the human resources data field and HR analytics.
The immense changes in HR strategy have changed the perspective and introduced a data driven approach to managers, VPs, C level executives, and the board of directors. Modern organizations focus on modern management processes, such as employee management and performance management, which create sustainable business development through HR metrics.
The human resources field utilizes data and algorithms to make data driven decisions. The Deloitte report, Numbers Behind HR Workforce Analytics, indicates that many HR organizations have been slow to facilitate robust reporting and analytics capabilities for people management purposes. The data driven world suppresses the traditional way of running HR since the outdated methodology is no longer good enough to keep pace with competition and new technology.
By calculating hiring costs, identifying patterns in employee turnover, discovering opportunities for employees' education and upskilling to improve employee performance, analyzing productivity and employee satisfaction with high quality data, and scanning essential questions within employee management, HR professionals can get actionable insights to improve performance and increase employee engagement. Moreover, HR analytics helps organizations of all sizes and industries enhance their results, deliver critical insights, and reduce HR-related costs.
In this blog, we will explore the main pillars of HR by answering what HR analytics is, why it is important, and the types of HR analytics by explaining why organizations should adopt HR analytics, and we will try to paint the complete picture of HR systems.
What Is HR Analytics?
HR analytics is a data driven approach to optimizing workforce management used by people analytics teams and the human resources HR department. By collecting and analyzing critical HR data and information, people analytics teams and companies generate constructive and actionable insights to improve workforce planning, organizational performance, talent analytics, the performance of employees, and business performance.
This method of data analysis takes data that is collected routinely by different sectors and the organization and correlates it to the HR and organizational objectives. The data collected from various data sources used for data analytics provides measured evidence of how HR departments and HR professionals create initiatives and how those ideas contribute to the organization's goals and strategies.
Human resources data enables human resource teams to measure the impact of a range of HR metrics on overall business performance, analyze workforce performance and make decisions based on HR data. This fairly novel instrument is best scientifically defined by Heuvel & Bondarouk in 2016 as 'systematic identification and quantification of the people drivers of business outcomes.' They suggest that, by 2025, HR analytics will have become an established discipline, have a proven impact on business outcomes, and have a strong influence on operational and strategic decision-making.
HR data analytics process is often referred to as talent analytics, people analytics, or even workforce analytics and helps test the effectiveness of HR policies and interventions. Clear differentiations are based on different application possibilities, and these terms should not be used interchangeably.
What Is People Analytics?
People analytics allows HR managers to make well informed and data based decisions about the talent management processes, such as recruiting process, hiring process, or the retention of employees. People analytics commonly includes data about employee performance and productivity, including aspects such as work life balance and well-being.
With people analytics, organizations make strategic and talent decisions and monitor employee satisfaction, improve employee experience, employee engagement, enrollment status, and rating systems with data driven approach and modern tools such as HR software.
What Is Workforce Analytics?
Workforce analytics is not attentive to the HR department but to worker-related processes, which might or might not involve people. Some areas relevant to this analysis are internal mobility, part-time employees, gender ratio, and automation.
Workforce analytics is a method closely related to strategic HR planning. It is implemented to manage staffing levels to ensure they align with businesses' needs and priorities. It is used to optimize the organization's structure and make necessary preparations for the future workforce through effective planning. Additionally, this analytics is utilized in recruitment, staffing, training and development, personnel, and compensation and benefits.
What Is Predictive HR Analytics?
Predictive HR analytics is future-oriented tactic organizations utilize as advanced strategies to implement technologies such as regression analysis, multivariate statistics, pattern matching, predictive modeling, and forecasting. It is especially beneficial in predicting events such as discovering employees at risk of leaving the company.
This short video gives simple and understandable answers to the two most commonly asked questions:
Transforming the World of HR
Analytics undoubtedly transforms HR, and analytics solutions have impressively boosting benefits that organizations can reap when using data to make faster and more effective decisions and solutions.
The analytics capabilities in decision making have been growing in importance throughout the global pandemic. The post-pandemic world showed that employment is a dynamic field with many changes happening daily, from hybrid work to increased use of automation. The age of uncertainty entails the need for analytical skills to make correct decisions that navigate the new reality.
By identifying employees who are at risk of leaving the company, revealing the sources of voluntary turnover, and discovering how to improve candidate experience and thus improve the offer acceptance rate, talent management has only reached the tip of the iceberg of the data analysis in HR and all of its perks.
Modern data analytics in HR addresses challenges related to:
Understanding the needs of the workforce
Effective distribution of resources to various departments
Identifying high-performing teams (sales, service, customer support, managers team)
Selecting high-performing job applicants that are an exceptional fit
Identifying the ambitions of employees and leadership candidates
Leveraging behavioral data (meeting hours, e-mail, and network collaboration)
Analyzing engagement and culture and sampling employees
Data collection of all types of relevant data (safety and security, IT (network/system), compliance data) and storing it in the HR data warehouse
These analytics can be collected from various data sources, such as HR software, employee surveys, tracking systems, and other human resources and resource management systems. Larger companies with thousands of employees and multiple office locations have a particular benefit from these metrics. Considering that HR analytics help HR professionals in monitoring the performance of employees, reduce employee turnover, and endeavor extraordinary performance management, data analytics is of utmost importance for any company.
How HR Data Analytics Improves Decision-Making
HR analytics is indeed helpful, but the organization must use suitable tools to analyze, understand, and use workforce data. To ensure that the organization utilizes HR data analytics effectively and reaps the benefits, it is essential to consider how analytics can help manage the workforce.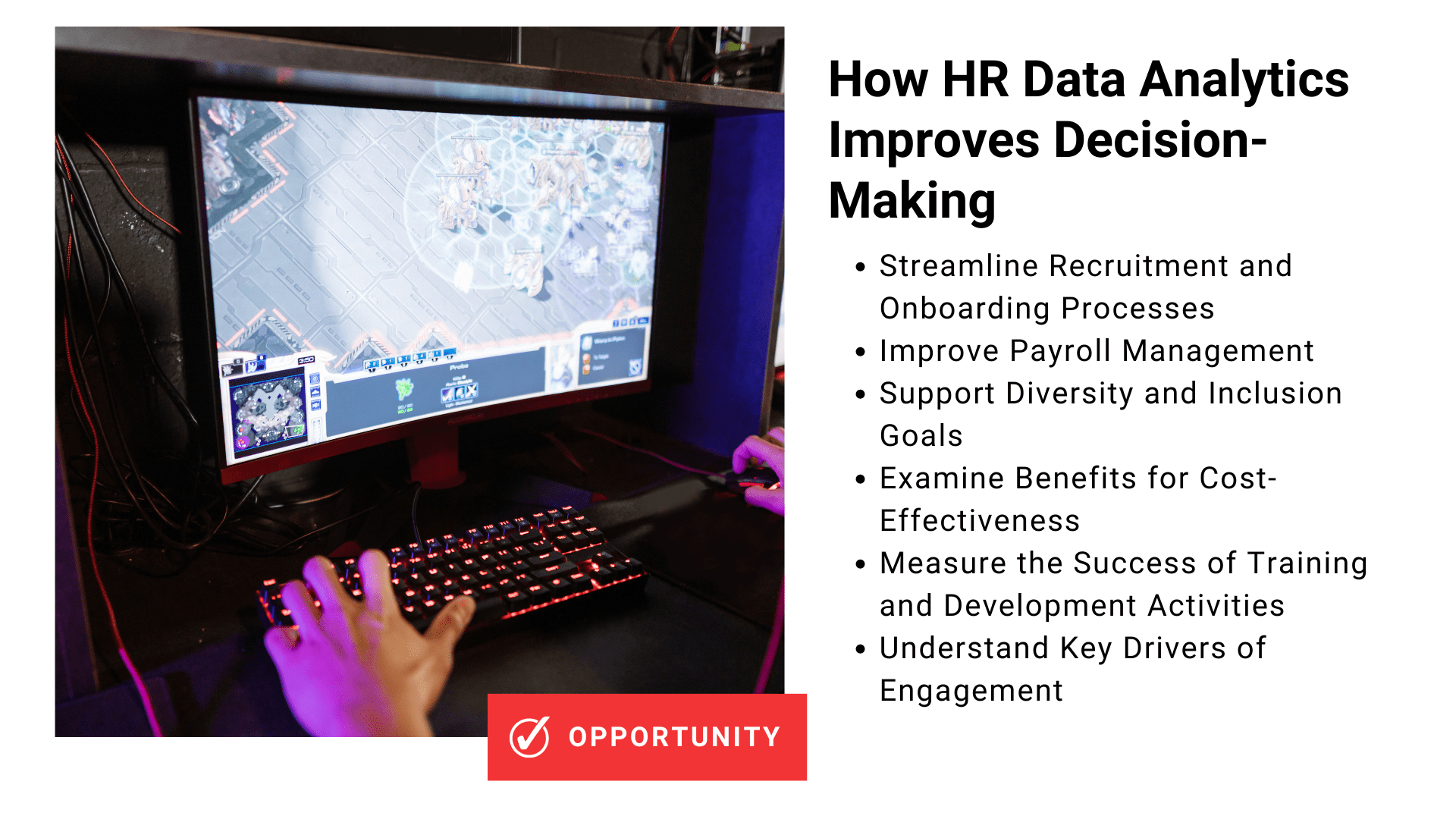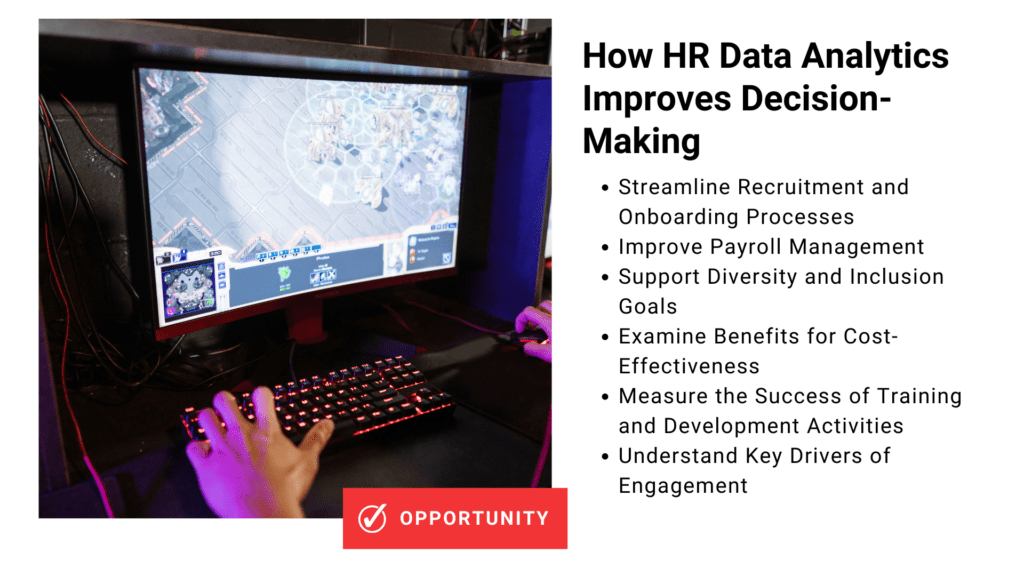 Some of the best examples of how HR analytics can improve decision making:
Streamline Recruitment and Onboarding Processes
Organizations today need to compete for talented candidates that have skills and experience. Predictive analytics and HR analytics are some of the best methods for a competitive advantage when sourcing, evaluating, and selecting applicants. Even after hiring, the talent management department must ensure that the process of hiring practices and onboarding employees has been implemented accordingly.
By tracking HR data, managers can understand which sources yield the best candidates, how long it takes to hire and train a candidate, and the costs of attracting, selecting, and onboarding applicants.
Improve Payroll Management
Businesses operate, and there are recurring expenses, among which payroll costs are some of the largest. Consequently, payroll costs require careful oversight and management. Managers can utilize data analytics and talent analytics to inspect payroll expenses and track overtime costs by position and department.
Additionally, with HR analytics, companies can analyze the total and annual payroll expenses and consider policy changes to manage labor costs effectively.
Support Diversity and Inclusion Goals
According to HR Policy Association's Annual Membership Survey 2021, 82% of respondents agree that diversity and inclusion are top issues of concern at their companies. By tracking HR analytics metrics, companies can support the development of a more diverse and inclusive culture by implementing diversity of new hires and by leveling the degree of pay equity among employees.
Examine Benefits for Cost-Effectiveness
HR analytics helps companies determine whether the benefits they offer are productively and constructively meeting the employee's needs. With data analysis, companies can analyze reports pointing to which benefits are in-demand among employees. Furthermore, analytics capabilities enable companies to calculate the total benefit expenses and determine if there are areas in which the costs can be lowered to offer competitive and comprehensive benefits and also allows HR to monitor all relevant factors.
Measure the Success of Training and Development Activities
Offering employees various opportunities for upskilling, learning, and growing is critical to developing a highly skilled workforce. HR analytics can track employee training hours and promotion rates in specific periods, and performance management can determine whether the current employee development initiatives are productive and in which areas additional training is needed.
Understand Key Drivers of Engagement
By analyzing the HR data, companies can determine employee engagement levels and factors that might contribute to poor engagement. When analyzing HR metrics, managers can measure survey results from employee engagement and evaluation feedback and compare them to different periods. Also, managers can run reports that measure critical signs of low engagement: absence and turnover. By tracking critical HR metrics, managers can potentially identify areas within the organizations where employees are not as engaged as they could be.
Types of HR Analytics
In today's data driven world, HR professional employees work on strategically planning the organization's goals and essential KPIs. Additionally, four types of data analytics solutions can help the HR teams effectively align long-term goals with current strategies.
Descriptive analytics
The most basic type of HR analytics is descriptive analytics, which takes historical data and data patterns and converts them into information that is easier to understand and analyze. Also known as decision analytics, this method uses a raw data set (a combination of numerical and qualitative data) to explain and summarize it using statistical analysis techniques.
Descriptive analysis helps assess behavior, compare characteristics, spot anomalies, and identify strengths and weaknesses. For example, it can be used to analyze the average number of paid time off days employees within the organization use annually or to analyze employee turnover rates to compare annual turnover between teams or departments.
Predictive analytics
Predictive HR analytics estimates what might happen in the future. Forecasting future outcomes includes categorizing past and present data to isolate patterns, correlations, and irregularities and thus predict what is expected to occur in a certain period in the future. Predictive HR analytics works to look ahead and help all departments proactively work toward the company's changing needs.
Predictive analytics supports better HR decisions by gathering and translating historical data from different areas (job skills, employee engagement, productivity, resumes, etc.) into forecasts about what to expect in the future. These predictions help HR leaders recruit and hire suitable candidates, increase employee satisfaction and retention, and bridge the skills gap.
Prescriptive analytics
Prescriptive analytics is the most complex segment of the analytics journey that transfers predictive analytics into ideas for which actions to take in the next period. In other words, predictive analytics offers options and targeted recommendations for opportunities with high chances of success. This method relies on big data and uses potent technical tools, including machine learning, algorithms, artificial intelligence, and pattern recognition.
With prescriptive analytics, most HR professionals can forecast what will happen next, why, and what they can do next to get the best possible outcome. This method anticipates the most likely scenarios that have the potential to bring optimal results. Related to HR, the most common use cases are predicting staffing needs and attrition (departure of employees due to several reasons, including resignation and retirement).
Diagnostic analytics
HR teams use Diagnostic analytics to understand the causes of the results from descriptive analytics. By knowing the reason that causes the line of events, HR professionals have higher chances to solve a specific problem because they are aware of the root of the problem. They will focus on resolving the initial cause when the question "Why did it happen?" is answered.
The explanation provided by diagnostic analytics aims to determine the underlying reason and information hidden in data and behind data by identifying trends, correlations, and anomalies in analyzing data. Some of the few examples of techniques included in this method are data drilling, data mining, and statistical analysis, which discover patterns, variances, and relationships between internal and external factors analyzing data. HR, in action, uses this method for employee absenteeism (frequent absence from work) and employee engagement.
Application of data analytics in HR
Data analytics can be used to make improvements in many departments, including:
Recruitment
According to a study by the global staffing firm ManpowerGroup, a staggering 77% of employers report difficulty filling roles, making it the highest talent shortage in 17 years, meaning sourcing and recruiting talent is more competitive than ever. With data analytics in the departments, HR managers can reveal where the recruiting and hiring process can be improved.
For instance, HR professionals can set their hiring goals, analyze how they are progressing toward them, collect data from deriving insights, compare the time-to-fill and cost-per-hire metrics with industry standards or other organizations, and adjust different aspects of the recruiting strategy.
Training and development
HR professionals have an important question: "Are the organization's training and development programs effective?" Without a method for measuring results and comparing goals with strategies, there is no way to analyze the results and discover whether the teams' resources and efforts were wasted or a training initiative.
Surveys for feedback or HR manager one-on-one meetings are a practical approach to determining the impact of training and development programs. Data related to the completion and comprehension of the programs performed can reveal the effectiveness of those programs.
Attrition and Retention
The number of job vacancies in the United States unexpectedly increased by 358 thousand to reach 10.1 million in April 2023, surpassing market expectations of 9.375 million. In addition to the talent shortage, the ongoing and record-high levels of turnover are another major factor contributing to the excess of open positions.
Knowing that employee retention is vital to any successful business, HR leaders are focused on discovering the sources of turnover. Undoubtedly, data analytics is the best way to do that. For example, the HR teams can analyze and collect data to identify patterns of mutuality between the results. Information gathered from exit interviews, surveys, and metrics such as voluntary and involuntary turnover rates, average employee tenure, and employee retention rates, enables HR to implement the necessary changes.
Benefits and Compensation
Employee compensation is one of the most significant expenses for organizations of all types and sizes. Coupled with the world's inflationary environment of an average of 5.2% in 2023, compensation analytics has become an essential practice for most HR professionals.
Companies worldwide need to make an intentional approach to compensational planning, such as comparing salary ranges with similar businesses, reviewing adoption rates of different benefits, and, most importantly, assessing pay equity gaps.
Employee productivity
From the perspective of the HR department, the productivity of employees is tightly related to how effectively the resources, such as talent, money, and time, are being used. In terms of measuring productivity, data analytics is an incredibly potent tool that can be adjusted according to the goal and type of data.
For example, many HR departments focus on tracking metrics such as revenue per full-time employee to determine the productivity of the workforce as a whole, while metrics such as project completion rate help measure the team's or individual's productivity.
Redfield Tools and Tips
HR data analytics has undoubtedly changed the entire functioning process of most companies worldwide. Data analysis provides outstanding results in any aspect, including the HR and sales department itself, and data driven approach toward issues and opportunities provides the best possible solutions. For this reason, companies need to survey and review their business's overall condition.
Determine the current position of the company
Data induces all statistics, conclusions, and decisions in every step of the decision making process, and on account of that, the first step in determining the current situation is to estimate the data collection process. Is the raw data coming from different and diverse data sources, is the information stored in a basic spreadsheet, or is it stored across multiple sources? If yes, centralizing the data collection and data warehousing and data lake that will efficiently and securely store data is of utmost importance. Additionally, it is vital to consider data profiling, standardization, acquisition, and transformation so the data is easily accessible for processing, gathering insights, and analysis.
Align data strategy with business priorities
After ensuring that the data is adequately stored and standardized and information is easily accessible for seamless usage between different departments, it is crucial to align the data strategy with the business priorities. Various activities that help the organization accomplish specific goals increase the business efficiency, and meetings with C level executives can help in the forethought of the importance of the HR department. In the long run, this will help build the data and emphasize the strategic value of HR analytics.
Prioritize tasks and activities
With the increasing number of data sources and amount of information business deal with, it is practical to employ robust software or systems that provide various functionalities. No matter the condition in which the current HR systems, upgrading, substituting, or adding tools that will meet the organization's evolving needs is a smart move. Starting from data warehousing, document classification, knowledge graphs use cases, and dashboards to data scraping services, modern technology helps organizations to make the processes run smoothly.  
FAQs
What Is HR Analytics?
HR analytics is a data driven approach to optimizing workforce management used by the human resources HR department. This method of data analysis takes data collected routinely by different sectors and by the organization and correlates it to the HR and organizational objectives.
What Is People Analytics?
People analytics allows HR managers to make well informed and data based decisions about the talent management processes such as recruiting or retention. People analytics commonly includes data about employee performance and productivity, including aspects such as work life balance and well-being.
How Does HR Data Analytics Improve Decision-Making?
HR analytics helps organizations manage the workforce in several ways:
Streamline Recruitment and Onboarding Processes
Improve Payroll Management
Support Diversity and Inclusion Goals
Examine Benefits for Cost-Effectiveness
Measure the Success of Training and Development Activities
Understand Key Drivers of Engagement
What Are the Four Types of HR Analytics?
The four types of data analytics are:
Descriptive analytics
Predictive analytics
Prescriptive analytics
Diagnostic analytics
What Are the Applications of Data Analytics in HR?
Data analytics can be used to make improvements in many HR departments, including:
Recruitment
Training and development
Attrition and Retention
Benefits and Compensation
Employee productivity