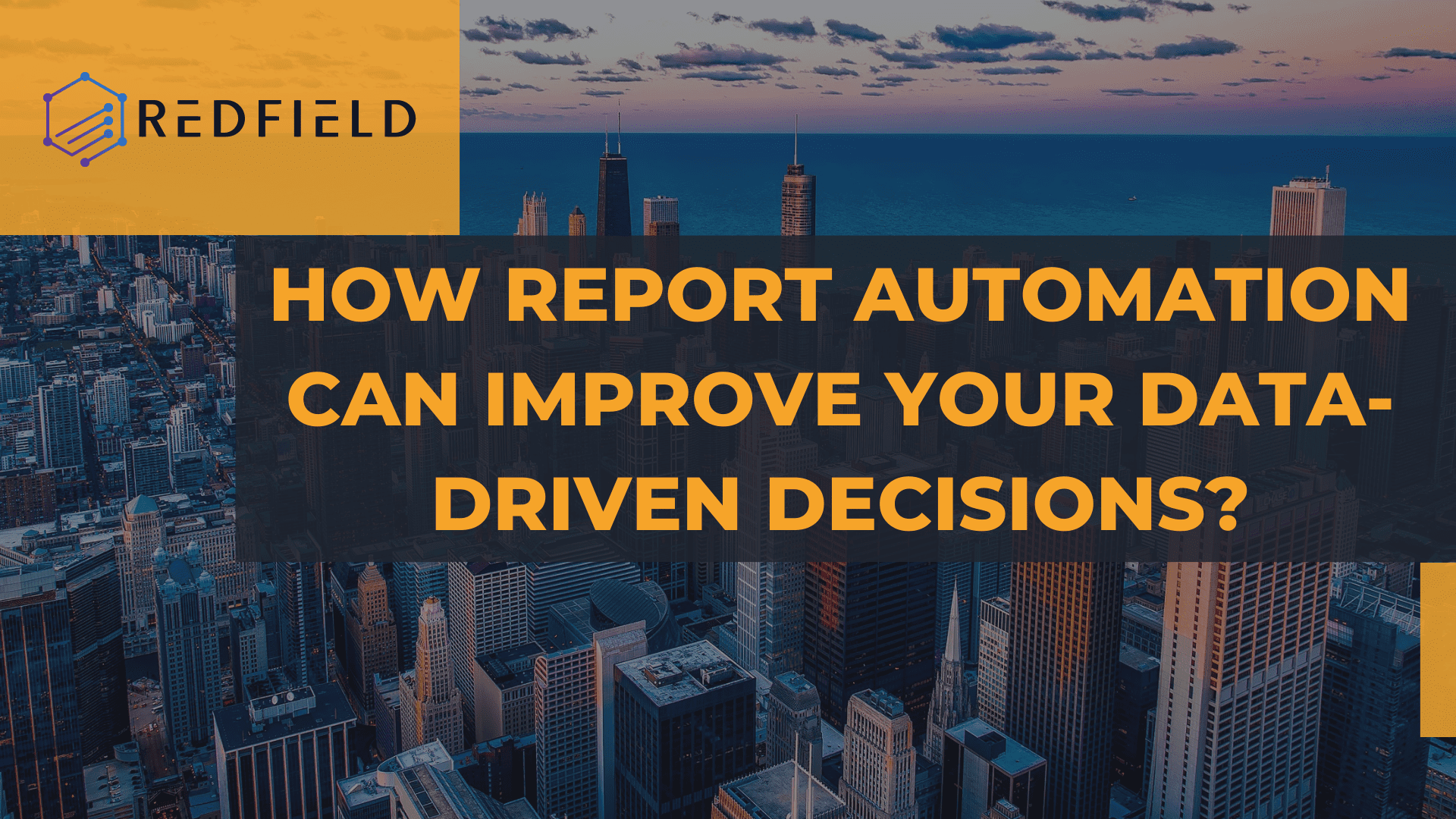 Success in business relies on valuable insights provided by report automation while developing and maintaining vital relations with employees, business partners, suppliers, customers, and other persons or entities. Automated reporting helps managers and top-level leadership to analyze where the business is thriving, which areas are struggling and need improvement, and discover if the company is on track to reach its goals. Additionally, automated reporting helps organizations present results to clients regularly and thus build trust, demonstrate value, and retain clients over the long run.
Data, information, and insights are all around us. To exceed their potential and stand out in front of the competition in the increasingly competitive market, businesses need to make new plans, create strategies and develop initiatives. Accordingly, companies will have a lot of new reports to generate. Since massive amounts of information are produced every second, businesses are always on the lookout for software solutions, business intelligence tools, and automated reporting tools that ultimately make the processes easier, faster, and more efficient.
Owning and managing a successful business requires dedication, effective planning, and coherence. Delivering insights at the necessary time is crucial to driving business impact and becoming a data-driven organization. Data teams are juggling requests to build new reports on a daily basis, answer lots of questions and queries, interpret data analytics results and create data analytics strategy, and distribute data to the employees and managers across the organization. Without a report automation tool, data team responsibilities would include the tedious manual work of a manual reporting system that provides for sending manual reports, rerunning queries, and copying and pasting report links for various stakeholders and communication channels.
With the right reporting tool, automated reporting can make data team workflows easier, data more accessible, and the organization a data driven business with the right key performance indicators at its fingertips.
What Is Report Automation?
Report automation is a process in which business reports are automatically generated, updated, and delivered through platforms within the organization on a specified schedule. Automated reporting includes a plethora of procedures in which data is automatically extracted, visualizations are automatically updated, and reports are automatically shared without human intervention and manual work.
For companies, report automation is a bread-and-butter technical ability to optimize workflows and speed up decision-making based on real-time analytics and solid information. Automation is generally carried out with the help of automated reporting software solutions that automizes repetitive tasks, such as data extraction, integration, transformation, and visualization.
The ability to understand data in a digestible format offers a competitive advantage for every business, which is why automated reporting has become a standard built-in feature in many reporting tools and data analysis tools. Reporting process as a concept is about preparing data and presenting the information in a form that provides decision-makers with crucial insights based on key metrics in the form of custom and self-updating reports. The end result is an automated process that produces business reports with improved accuracy and real-time insights.
Productivity has become the epitome of successful business processes. Companies are searching for methods, tools, and activities to increase productivity and decrease costs while pushing toward sustainable development – fortunately, automated reporting and report automation software is the way forward. Report automation software can be implemented with little programming and technical knowledge, and regardless of the lack of IT skills, marketers can get all the benefits of automated reporting tools.
Automated reporting software typically runs on the company's computer or cloud to collect and process online data using software APIs. After the software fetch the data from each platform and integrate it into the software system, managers at all levels have access to updated digital reports that are automatically and regularly sent to multiple email addresses and all parties concerned.
Analysis of the key performance indicators with report automation is one of the most effective ways through which organizations build efficiencies across various departments. Although it might seem that this process would skip the communication and custom nature of the reporting process, many customizable options, such as comments, custom email messages, notes, and other features, offer high productivity and transmission of information within the organization.
Professionals use automated reporting tools to create and share automate reports at a specific interval and completely eliminate the traditional means of communicating data. Organizations rely on business intelligence tools and software solutions that utilize cutting-edge BI technology and smart features, such as interactivity, drag-and-drop interface, and predictive data analytics, among others. Its simplicity and narrative way of presenting data into dashboards with all insights stored in one place, such as data warehousing or data lake, make report automation a groundbreaking tool for report creation for organizations of all sizes and industries.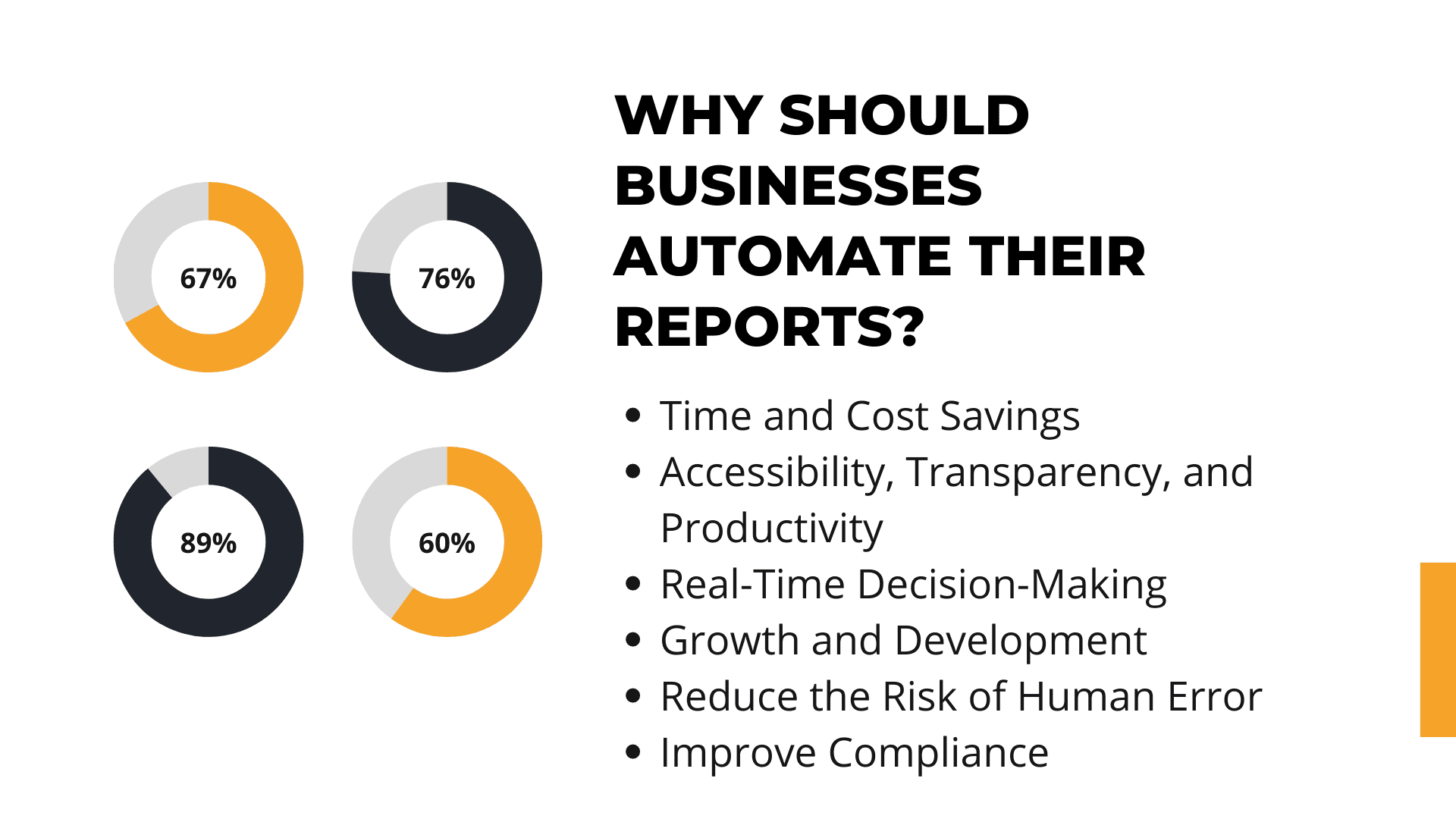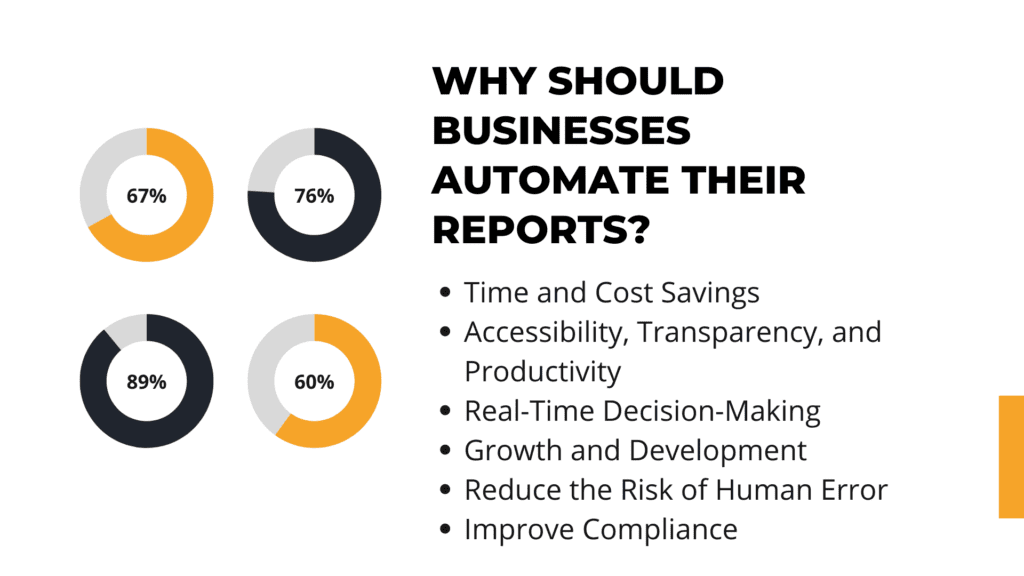 Why Should Businesses Automate Their Reports?
Business reports and marketing reports, in particular, are a way to communicate effectiveness across the organization. Businesses must keep track of SEO strategies, Google Analytics, social media campaigns, presence, website data, client data, employee data, and much more. The available data and the new data created daily can quickly become a burden for any company. Tracking, aggregating, putting together, and presenting an assortment of key metrics on a daily, weekly, or monthly basis requires time, effort, and money. Ultimately, that is the reason why automated reporting was created.
Automated reports improve the business at its core while empowering the data teams and managers of all levels to develop strategies and initiatives. Ultimately, automated reporting helps companies to become better than their competitors. The top benefits of report automation are:
Time and Cost Savings
Companies that automate reports save colossal amounts of money and countless hours of manually tracking, updating and adding essential information to the reports. Needless to say, time and money are closely correlated in business, so by automating reports, companies effectively reap the rewards of valuable data-driven insights while empowering the teams to focus on creative and strategic activities. Additionally, an automated reporting system is designed to provide accurate, dynamic, and up-to-date information and visual insights that vouchsafe the company with greater intelligence. Successively, stakeholders and managers will improve the decision-making processes while analyzing the insights that streamline any inefficiencies in the operations while generating more profit.
Accessibility, Transparency, and Productivity
Automate reporting enables businesses to allocate autonomous insights from one central location, which ensures accessibility to report automation tools for all employees. Ultimately, the overall performance is significantly improved by the shared visualizations. Teams can dedicate themselves to daily tasks, and employees in their individual roles benefit from robust, reliable, and accurate report generation. As modern automated reporting tools are straightforward to use and understand, employees achieve increased collaboration and transparency, greater productivity, and better insights. The accessibility of automated reporting, along with up-to-the-minute information, enables teams to use the reports with the essential insights to support discussions in collaborative brainstorming sessions or team meetings, leading to expanded and more creative output. Eventually, a transparent and synergetic environment with increased productivity across the board leads to sustainable growth.
Real-Time Decision-Making
Manual reporting is a sure way to get the entire team bogged down. Moreover, unwieldy reporting systems and reporting processes return data that is harder to understand and interpret and often inaccurate or even misleading. With automated reports, businesses gain access to accurate data presented in the form of visual KPI metrics, including the team's performance metrics. The information ensures real-time decision-making processes. Fundamentally, automated reporting provides clarity through responsive data that users can leverage with just a few clicks or a simple glance. For instance, if the report indicates an issue, managers can consult the teams and make informed and accurate decisions that will save time, hustle, or even organizational headaches.
Growth and Development
With the latest technology innovations in the field of data analysis, organizations benefit and achieve continuous growth and development. One of the many handy features of report automation tools is that managers can access reports 24/7 from multiple devices. By embracing the innovative branch of data analytics, stakeholders and CEOs can set the company up for ongoing growth and development while they are on the move. With the help of interactive dashboards, managers can respond to round-the-clock changes confidently while maintaining a level of innovation that shows strength to the competition. Automated reporting is an indispensable asset in the ever-evolving digital landscape.
Reduce the Risk of Human Error
Another key benefit of using an automated reporting system for generating reports is the fact that it leaves less room for human error. Even a tiny analytical or administrative mistake can cost the organization time and money. Nevertheless, automated reporting tools decrease the risk of human error to a great extent. Automated reporting ensures that laborious manual data entry is shifted with automation technology that connects the insights that are digestible, accurate, and reliable.
Improve Compliance
Dashboard tools that generate reports automatically ensure delivery at the right time and location, so compliance becomes more convenient and routine. The data-driven age in which businesses operate today requires informational compliance, which in the long run, ensures that the organization is credible, legal, and trustworthy. Automated reporting guarantees that the business will always remain on the right side of the red tape.
Types of Automated Reporting Tools
There are four types of autonomous tools available in today's data-driven landscape:
Code Based Tools
Pros: Full control, customizable
Cons: Time-consuming, expensive
In terms of reporting automation, the code-based automated reporting tools offer complete control over the reporting system and are especially useful for companies that need customizable aspects based on specific requirements or preferences—the main advantage of these tools is their incredible flexibility and personalization according to businesses' needs. Since the coding is performed according to the preferences and necessities of the company, these tools can be perfectly adapted with specific functionalities and business data in a custom-made single report.
The primary drawback of code based tools is the fact that these tools take time and effort to develop, test, and debug, which ultimately is high-priced. Companies that opt for such tools need to hire a team of developers to create the software, maintain it and update it regularly, and fix any bugs or glitches that may occur over time. Moreover, these tools require technical staff with advanced technical knowledge and education of employees, which are additional stumbling blocks for average business users.
BI Tools
Pros: Robust data analysis, custom and flexible
Cons: Highly analytical, not user-friendly
BI tools (business intelligence) are intuitive and offer easy access to a fortune of metrics related to each and every operational aspect of the business. Companies use business intelligence and BI tool for automating purposes to facilitate aggregation, data analysis, and data visualization for gathering business insights within interactive business intelligence tools. With these tools, companies don't have to build the tool from scratch and still can get many custom options. Reporting tools offer numerous ready-to-go templates, including dashboards, scorecards, and reports with all kinds of data visualization, making the process much easier.
Most BI tools provide a fully customizable analytical experience in generating reports and offer users the ability to pull data from multiple sources to deliver a range of positive business outcomes. The downside to these tools is that they tend to be less user-friendly solutions and generally require a steep learning curve. While the company must finance the training of employees about how to use the BI tool and get all the benefits, the investment is undoubtedly rewarding.
Low-Code or No-Code Tools
Pros: Easy to learn
Cons: Limited customization capabilities
Simple to master and quick to implement is the reason why many businesses opt for low-code or no-code tools. The low-code or no-code tools typically operate through drag-and-drop functionality while pulling information from multiple sources, including emails, spreadsheets, and social media. In order to complete business processes, these tools pull data from business and multiple data sources together, create and update datasets, generate reports, and send reports to designated contacts.
Low-code or no-code tools are proven effective tools for report automation and require little or no programming skills to set up reporting functionalities. Still, the disadvantage of the low-code or no-code tools is that they are non-flexible, limited in scope to built-in reporting functionalities, and difficult to customize.
KPI Dashboards / Data Analytics Dashboard Tools
Pros: Less complex, budget-friendly
Cons: Basic features, less customization
KPI tools track different business metrics (such as projects, budgets, sales, forecasts, schedule reports, team performance, etc.) among various departments within the organization. The data analytics dashboard tools provide real-time and time-range visualizations of business performance. The modern dashboard tools are closely related to BI platforms and offer a plentitude of functionalities for dynamic reporting processes that ultimately create the data analysis strategy.
Typically, these tools are categorized into three main areas:
Strategic Dashboards
Metrics in such dashboards and reporting tools focus on finance and process-based KPIs to spotlight system weaknesses and flaws, investment opportunities, and help in budgeting.
Operational Dashboards
These dashboards focus on sales, marketing, and customer service analytics with the ultimate goal of exploring market trends and company performance.
Analytical Dashboards
Such dashboards are loaded with historical data about the company's performance and provide a detailed view of the financial status and performance of the competition to predict future trends and optimize operations.
The highly-visual and interactive KPIs ensure a cohesive combination of past, predictive, and real-time insights. Most of the dashboard tools available are largely customizable, easily accessible, simple to master, and fully integrable. However, the data analytics tools are less customizable and may require employee training to extract valuable information.
Challenges of Automated Reporting
Unquestionably, automated reporting offers a plethora of business-boosting benefits for companies of all sizes and industries. Organizations willing to embrace report automation should also be informed that these tools come with a share of challenges. By understanding the potential roadblocks, businesses can overcome any stumbling block while navigating to success. Some of the biggest challenges of automated reporting include:
Data Security
Companies that employ software solutions in order to achieve straightforward processes within the organization are at risk of data breaches. Data and the information contained in the data are invaluable, which is why many organizations are looking for ways to get possession of it.
With extensive levels of potentially sensitive data running through the automated reporting system and the automated reporting tool itself, there is a high possibility that sensitive information to be leaked or fall short of compliance regulations, such as GDPR. Adding a robust security protocol to the automated reporting processes is one of the best options to avoid legal issues.
Data Accuracy
Another potential downside of automated reporting is poor data accuracy. If the reports are generated using low-quality or redundant data sources, the automated reports will virtually become redundant or, worse, misleading, resulting in poor decision-making and wasting time and resources. In spite of that, by working collaboratively to curate data from reliable sources, companies will reap the automated reporting benefits that will take the business up a notch.
Design
Poor design of the reports or dashboards can make the reporting process confusing or even create user friction. The aim of reporting, in general, is to make the data as accessible as possible. To do so, businesses need to focus their efforts on creating designs that are clean, minimal, easy to read at a glance and contain consistent KPIs in a way that everyone in the organization can understand and utilize.
Employee Retention
Lack of employee adoption can throw a spanner in the works. If the team is skeptical or hesitant to use automated reporting tools, achieving the goals can become an uphill struggle. Therefore, companies must ensure that their employees are on board with progressive data-driven culture and start using software for automated reporting. Additionally, companies need to provide adequate training to help tackle the issue of being unfamiliar with specific systems.
Report Automation Tips, Tricks, and Tools
On the market, there are many automated reporting tools, and organizations can select the best fit from the many options available. While some tools are complicated to use and requisite employee training, others are easier to use and require little or no IT knowledge. In terms of expenses, there are pricey options with numerous features, but there are free, robust options, as well. The only way companies should decide which automated reporting tool to use is to consider all aspects with regard to functionality, goals to achieve, budget, key metrics, and employee knowledge and experience.
Automation has outstanding potential and can increase productivity levels since the workforce can focus on human-centric tasks. Still, the automated reporting tool is as helpful as all relevant factors are considered in the process of selecting the best tool for the company. In order to get all the advantages, organizations need to answer several crucial questions:
What Are the Reporting Needs of the Business?
When choosing from the plethora of report automation tools, it is crucial to consider the specific information needs of the organization. Depending on which aspect of the business and which departments will benefit from the increased intelligence or efficiency, managers can make informed decisions on the types of features, dashboards, and visualizations that best suit the company. For example, if the company is aiming to improve customer service communications without hindering productivity, selecting the tool should be based on this aspect, among others.
It is essential to consider who will be working with the automation reports (data teams, financial management, CEOs, presidents, etc.) and their level of IT knowledge. Additionally, companies must consider what kind of insights and functionalities the users will need to create such reports and succeed.
What Kind of Kips Should Be Integrated?
KPIs are the center of each tool and crucial for any type of analysis, which is why managers need to communicate them clearly and on point. By selecting the most important KPIs, the business will get a comprehensive narrative. Furthermore, employing a dashboard designer is vital in creating a single screen with KPIs with powerful interactive features.
At What Frequency Should Reports Be Created and Sent?
Depending on whether the business is focused on an operational level or strategic, the automated reports will differ. Namely, operational reporting has foundations over shorter periods (daily or weekly) and is focused on lower-level KPIs. On the other hand, strategic reporting concentrates on metrics that need to be monitored over a more extended period of time to provide the most accurate conclusion possible.
What Type of Report Would Best Suit the Business' Recipients?
Automated reports have numerous features that make working life easier, faster, and more straightforward. Therefore, when it comes to developing an automated reporting system, managers should look for several all-important options:
1. Standard and Customized Reports
Standard and customized reports are sent to designated email addresses on a defined schedule regardless of the number of recipients. Certain customizable features, such as content and filters, give users complete control over the information shared within the reports.
2. Live Dashboards and/or Secure Viewer Area
If the user aims to share or send the entire dashboard, the process is as simple as sending a URL. Additionally, the user can select the option to assign the viewer a specific area with limited access to filters, but the viewer cannot edit or rearrange the dashboard.
3. Embedding the Dashboard
The dashboards can be embedded into specific applications or websites using embedded BI tools.
4. Printing Bounds
Printing is a traditional, if not old-fashioned, way of presenting data, but it still can sometimes be useful for in-person meetings and discussions. Users can set a reminder for printing dashboards with updated metrics and information.
What Are the Core Aims and Goals of the Company?
Even though it may sound obvious, today's businesses are dynamic, and so are the ultimate goals. Depending on the current trends, companies need to adjust their plans and, consequently, the steps toward achieving those goals. The golden rule of any business is to set a clear objective, and setting KPIs is only one step of the process. Determining the specific departments, processes, or functions that would benefit from streamlining and simultaneously defining the core data automation goals is just as important.
Setting specific goals will streamline the organization's data strategy in the right areas and departments. As a result, the automated reports will support the decision-making process and provide responsive and intelligent insights related to the primary functions.
Ensure Complete Access and Provide Education for All Employees
When it comes to automated reporting, the more, the merrier is absolutely true. The more employees can use and implement the reports, the more benefits the company will receive. Instead of giving limited access to a selected few, managers should run workshops to enlighten employees of all levels and departments on the strength of automated data reporting.
It is not necessary to provide a complete overview of the dashboards, but by providing everyone in the company some form of access to the tools and templates and by teaching them how to use those tools to their advantage, the company will receive a data-driven reputation and thus increase employee productivity and engagement. This also extends to partners and clients: By allowing access, the business will empower everyone to check their performance over reliable live data.
Should the Company Use Advanced Technology?
The answer is: absolutely yes. Automated reporting offers a plethora of information extracted by intuitive technologies that make the data collection, data visualization, and data analytics processes simpler, swifter, and more accurate.
Driven by artificial intelligence (AI), many automated reporting systems offer features that provide dynamic information visualizations and deep-dive insights with minimal human intervention. Such technologies streamline business operations while ensuring that no trends, patterns, or information is missed, with intelligent insights related.
Keep Refining, Updating, and Measuring
Beyond doubt, report automation is magnificently powerful and valuable. Still, it doesn't mean that a single report can deliver value indefinitely and provide boosting rewards.
To enjoy a healthy return on investment (ROI) from automated reports, managers must check the tools periodically and ensure that the data used for report generation is still relevant. If the company evolves, expands, or the industry changes, it is vital to examine and possibly redefine the goals of report automation and make refinements to the visualizations.
Learn more about how to automate reporting process:
Choose the Best Tool for Company's Needs
The data collection process is tedious and time-consuming, no matter the industry or the company's size. Report automation basically shortens the time as much as possible by automating reports, so companies introduce automated report generation across departments. To get the most out of reporting automation, choosing the report automation tool according to the specific needs is pivotal.
Some of the key factors to consider when choosing the best tool are:
Scalability
Businesses are occupied with many activities toward achieving the ultimate goal, and the reporting tool should follow through. This means that before opting for a particular report automation tool, it is essential to consider its scalability. It should be able to grow with the business and provide solutions that work at the present moment but also later when the company expands, and there is more data and more employees generating their own reports too.
Data Security
The last thing that any organization wants to worry about is the safety of the data, which is another vital feature of the automated reporting tool. Therefore, when choosing a tool, ensure that it offers security features such as encryption, role-based access control, and regular auditing of data activity.
Performance
Depending on the type of reporting tool, the performance can be either excellent or not-so-good. Therefore, it would be wise to opt for a cloud-based solution that doesn't have local hardware requirements so that users can access marketing reports from anywhere at any time. Still, the cloud-based tool might not be the best solution if the company faces issues with reliable internet and internet access or if multiple people need to access reports simultaneously.
Take the Shortcut: Report Automation
Automated reporting tools transform raw data into valuable insights and information. Organizations across all industries rely on the power of report automation software to make decisions, streamline processes and maximize effectiveness. In the time of massive digital transformation, an increasing number of businesses are entering the analytical arena, making the data as efficient, accurate, and valuable as possible.
When selecting the best reporting tool for producing automated reports, remember to consider the aims and goals of automate reporting, of the company, the scope of the reporting necessary, and the overall user experience of the software itself.
At the end of the day, automated data reporting is a question of saving time. In the long run, companies that want to scale their business goals will need as much time as possible. Businesses work best when embracing the power of intelligent reporting. Companies that get on board will win long-term by embracing the power of reporting automation and realizing the intensity of the new tech-centric age.
FAQs
What Is Report Automation?
Report automation is a process in which business reports are automatically generated, updated, and delivered through platforms within the organization on a specified schedule. Automated reporting includes a plethora of procedures in which data is automatically extracted, visualizations are automatically updated, and reports are automatically shared without human intervention and manual work.
Why Should Businesses Automate Their Reports?
Business reports and marketing reports, in particular, are a way to communicate effectiveness across the organization. With automated reporting, businesses get many benefits, including: Time and Cost Savings; Accessibility, Transparency, and Productivity; Real-Time Decision-Making; Growth and Development; Reduce the Risk of Human Error; Improve Compliance.
What Are the Types of Automated Reporting Tools? 
There are four types of autonomous tools available in today's data-driven landscape: Code Based Tools, BI Tools, Low-Code or No-Code Tools, KPI Dashboards / Data Analytics Dashboard Tools.
What Are the Challenges of Automated Reporting?
Some of the biggest challenges of automated reporting include: Data Security, Data Accuracy, Design, Employee Retention.